Make Their Year with a MightyFix Subscription
Each month we'll send a surprisingly simple product that encourages a healthier, greener lifestyle.
Why Gift the MightyFix?
Each month, your recipients will receive a box that introduces them to an amazing product that encourages a healthy, green lifestyle.
With every MightyFix, they'll be reminded of your thoughtfulness.
MightyFix members get FREE Shipping on everything on our site and member only deals!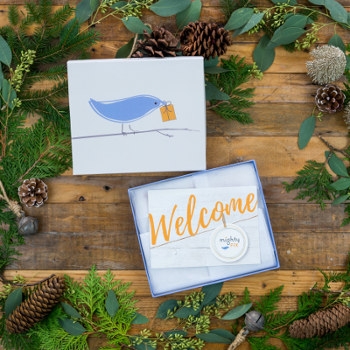 Three Easy Ways to Deliver Your Gift!
Surprise your recipient with a unique, "no-giftwrap-needed" box that includes their first Fix, your gift message and subscription activation details.
+$2.95 gift handling fee
Add a personal note, and we'll email a MightyFix gift card with subscription activation details to each recipient.
Print a MightyFix gift card for an instant gift you can present in person. We'll include your personal note and the subscription activation details.
We Have Easy Gifting Options for any Situation
Schedule the delivery date (mail or email)
Mail to your recipient or yourself (to present in person)
Email to your recipient or yourself
Questions?
Chat with us
Read our FAQs
Our Members Say it All
"The MightyFix is the easiest way for me to replace my kitchen supplies with eco-friendly, sustainable alternatives. I love the idea of renovating my kitchen a little at a time, month by month, as opposed to all at once! So easy and affordable."
"The beauty of the MightyFix is that it's basically like getting free shipping once a month, so if you have any other lunch supplies you're pining for, you can add any of these items to your order and it all ships free!"
"I think the MightyFix is awesome because it gives me a chance to try new-to-me products that help reduce waste in my kitchen!"
"The MightyFix is a fabulous and fun way to slowly make the transition to non-toxic products in your kitchen!"
"The MightyFix is like a surprise gift that you can give to yourself or a loved one each and every month. It's a small but mighty reminder of how we can constantly be living cleaner, healthier lives."
"The MightyFix is a fun way to discover new goods for healthy living, while also supporting the school of your choice. And if you take advantage of the free add-on shipping, it's a complete no-brainer!"
"For me, I'm reassured the Mighty Nest moms did the research so offerings are durable and practical, so it saves me time, worry AND money!"
"MightyNest has helped me upgrade the way I do so many little things in my home every day. I feel better about the health and safety of my family. Thank you!"
How Does it Work?
The MightyFix helps you make one change a month
1
Discover one mighty upgrade each month
Each month starts with the MightyFix shipment. We pick one amazing product that helps you live better and send it to you with tips to ensure you get the most out of your fix. Every item retails for at least $10 and on average you'll save 30%.
2
Get great deals on the products you love
Members save up to 30% on exclusive, member-only specials that you can add to your shipment in 2 swift clicks.
3
Everything ships
FREE
Anything you add to your fix shipment will hitch a ride for free.*
*Lower US 48 states only
Our Pledge
We make it easier for you and your family to create a healthier, greener home every month. Every one of our products has been hand-picked for its quality and design and thoroughly researched to be free of potentially harmful chemicals.
No BPA
No phthalates
No lead
Real materials
Time tested, durable
Safe alternatives that work
Did you receive a MightyFix gift card?
Click below to enter your gift code and activate your gift subscription.
Redeem Your Code »